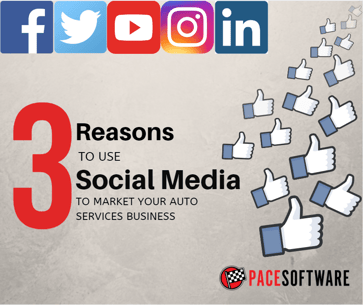 Social media is an integral part of the daily lives of almost every American. According to a survey performed in January 2018 by Pew Research Center, the majority of U.S. adults visit various social media platforms at least once a day. When surveyed about their social media usage, U.S. adults reported Facebook is the most prevalent, with 74 percent visiting daily, followed by Instagram with 60 percent visiting daily, then Twitter and YouTube with 46 percent and 45 percent, respectively. In fact, social media is also an extremely powerful tool for connecting with these prospective customers and marketing your auto repair shop. Here are our top 3 reasons why.

1. Build online reputation by gathering positive reviews – As the auto service industry operates in a highly competitive market with dealers selling the same parts and services at similar price points, you need to build your online reputation to stand out.


Online reviews on Facebook play a key role in your prospective customers buying journey right from awareness stage to consideration to purchase as it:
Impacts your online search rankings – While ranking your auto services shop, Google takes into account your shop's star rating and total number of reviews on Facebook. So make sure to encourage your customers to leave a positive review on Facebook if they enjoyed working with you!
Improves trust – In an industry that lacks in trust from consumers, 'digital word of mouth' in form of online reviews and ratings is critical. According to online reviews statistics 84% of consumers trust online reviews as much as a personal recommendation.
Influences purchase decisions – 90% of consumers read online reviews before making a purchase decision. If your shop's online reviews are not at par, your prospective customers will keep looking for other options.
2. Increased visibility – The more active you are on social media, the more visible you are to a variety of potential customers. It is common for customers to research auto repair shops when needing a service, and it is important that you show up in their search results. Happy customers can also follow your social media accounts for regular updates on promotions and coupons. When someone 'likes' your page, their social media followers can see that they follow you, creating an automatic word-of-mouth recommendation.

3. The only non-intrusive way to communicate with customers – Social media is the only way to communicate with your customers that does not intrude into their lives. Your messaging is out in the world and available to them to consume at their convenience. Customers don't feel pressured or rushed into making decisions and can opt out of following you at any time. This makes them more likely to follow you in the first place, knowing they can get the information they want without the pressure of a sales pitch.


Social media is one of the best and fastest growing ways to communicate with customers and maximize the growth and success of your auto services business.It can boost your visibility, grow your customer base, increase sales leads and profits and more.

How has social media helped you grow your auto services business? Share your story below and any other tips you have to maximize the benefits of social media.